One of the first bitcoin related sites that sprung up around crypto where bitcoin faucets. Bitcoin Faucets were sites created to help spread bitcoins around.
Today Bitcoin faucets are more driven by profits then the ambition of spreading bitcoins to users to help foster bitcoin adoption. They limit the number of bitcoins they dispense along with the amount of bitcoins they are dispensing, which makes sense given how much the price of bitcoins increased since 2010.
What is a Bitcoin Faucet?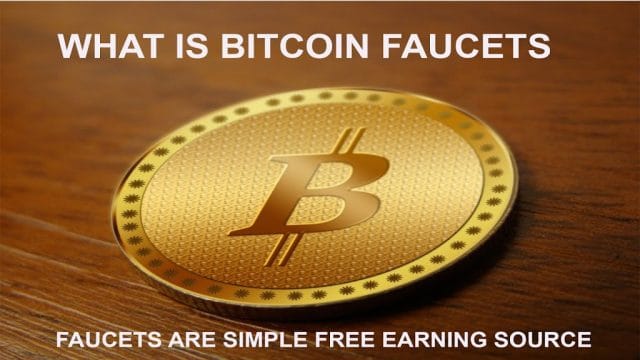 A bitcoin faucet is a web site that is built to drip out bitcoins to users, like a dripping faucet. The first bitcoin faucet was started in 2010. The first Bitcoin faucet site was started in 2010 by Gavin Andresen in 2010, it originally gave out 5 Bitcoins per person. That 5 Bitcoins would be worth around $50,000 at current prices.
A bitcoin faucet is setup to dispense a certain number of bitcoins, every so many minutes. The amount of bitcoins and the time are set by the owner of the bitcoin faucet. Additionally, Bitcoins are not the only cryptocurrency that is being dispensed, there are crypto faucets for every major crypto currency.
How does a bitcoin faucet work?
A Bitcoin faucet offers free bitcoin to users who visit their website and submit their contact information. They may have you view some ads to receive your crypto, additionally, you will probably be spammed with emails. As a result, you may want to create a separate email address or any bitcoin faucet offerings you participate in and not use your email address.
How much can you earn from Bitcoin Faucets
Unfortunately, gone are the days when you were given 5 bitcoins, today you'll get factions of bitcoins, equally a couple cents or less. The amount and value you receive will depend on the bitcoin faucet and the price of bitcoins at the time. However, you can make a couple dollars in bitcoins per day. Also if your looking to acquire bitcoins for the long term, if you make $2 per day then if the price reaches some of the targets being projects such as $55,000, that $2 will turn into $10 a day. Just something to consider when making $.50 or $2
How do Bitcoin Faucets compare to other Free bitcoin methods?
There is a few ways to make Bitcoins, you can either mine them, which is expensive, and requires specific mining hardware, You can also mine it through your browser, however, the payout isn't that great.
You can obtain Bitcoins through services and having people send you bitcoins. This method will probably yield the most bitcoins. However, you will need to have some skill or service that individuals would like to pay you for it.
Another way of getting crypto currencies is through airdrops. Similar to the initial idea behind bitcoin, which is to help spread the adoption of a crypto currencies and increase market awareness. The only issue is that these sites only pay out in their own crypto currencies which may not care much value.
So while the returns on Bitcoin faucets is not that create, it is a method for obtaining bitcoins without having to spend tons of money on special mining equipment, the payout of the faucets is usually not much but it can add up over time and increase in value and the best thing is that they payout is in bitcoin.
Problems with Bitcoin Faucets
The issue with bitcoin faucets are two fold. One they don't give you much in the form of bitcoin, granted free money is free money, but you are getting fractions of a bitcoin. Also your giving them the right to spam and sell your email address, which never gets good results.
The other issue with bitcoin faucets is that many don't pay, they want the traffic, they want the click on the ads, they collect your email address and then they say they will issue you the crypto coins in 6-8 weeks, with the assumption that you will forget about them. Which is why we recommend that you take a look at the list of bitcoin faucets that we tested below.
What are the Best Bitcoin Faucets in 2019
The bitcoin faucet industry has changed and evolved over time since it was started. For many bitcoin faucet site owners, their goal now is to make money instead of helping spread the adoption of crypto currencies and to some degree that isn't bad. What it is doing is helping the crypto faucet sites evolve into more then just faucet sites. Listed below are some of the best crypto faucet sites that are working today.
Cointiply – This is probably one the best bitcoin faucets/bitcoin earning sites. Its more then just a faucet sites, it also a site that allows you to earn bitcoins by completing surveys, watching videos, playing games and much more. It is similar to the Swagbucks site. Which also allows individuals to make money completing surveys. The minimum level of coins needed to be earned in order be paid out is 35,000. Which translates to $3.5 in bitcoin. There is a number of different survey sites that you can complete, and they also have the standard bitcoin faucet. The only downside is that they don't have an app at least for iOS. Which would make it much easier to use the site.
BonusBitcoin.co is another bitcoin faucet site, this is more of a pure faucet site. However, don't expect to earn much with the faucet. They pay out about 12 satoshi coins, every 15 minutes, which isn't much. There is also no other way to earn cryptocurrenies on the site, no surveys to take or videos to watch.
How do Bitcoin Faucets make money?
Bitcoin faucets make money based on their traffic viewing and clicking on ads, the more traffic they get the more clicks they'll see and the more money they'll make. They real bitcoin faucets give a portion of that money back to their users. They also make money by collecting and selling email addresses.
Conclusion
Bitcoin faucets started out as a way to help spread bitcoins around and as the popularity of bitcoins increased the sites evolved from just dispensing bitcoins to being a means of profit for bitcoin faucet owners. Bitcoin faucets are still around today, they won't make you rich like the initial bitcoin faucet did but if you want to dip your toe in crypto currencies, bitcoin faucets are a great way to start.